Ghanaians went to the polls on December 7 to elect a president and 275 legislators/members of parliament.
Each of the twelve presidential hopefuls cleared by the country's Electoral Commission to contest the election paid 100,000 cedis as nomination fee, a 100% increase from the 50,000-cedi fee paid in 2016.
Parliamentary aspirants that appeared on the ballot paper on election day across the 275 constituencies, also paid a deposit of 10,000 cedis, same as what was paid in 2016.
Election over
Ghana's eighth presidential and parliamentary elections since the country returned to multiparty democracy in 1992 is over, and the Electoral Commission has called it for the incumbent, Nana Akufo-Addo.
The opposition-National Democratic Congress (NDC) has meanwhile rejected the results citing "overwhelming evidence" of irregularities.
This notwithstanding per the regulations of the EC, the nomination fee paid by the aspirants is refunded after the election if he or she gets a certain percentage of the total valid votes cast in the election.
How does this work?
"If by the close of election, a candidate[presidential] gets 25% of valid votes cast, the money [nomination fee] is refunded in full," Director of Electoral Service at the Electoral Commission, Dr Serebour Quaicoe told GhanaFact.
According to him parliamentary aspirants with "12.5% of valid votes cast will also get a refund."
The Electoral Commission (EC) has explained that qualified aspirants would be expected to apply for a refund to activate the process.
Only 2 presidential candidates will get a refund
Two out of the 12 presidential candidates qualify for a refund per the summary of the 2020 Presidential Election results [Without Techiman South Constituency] published by the Electoral Commission.
President Nana Akufo-Addo and former President John Mahama are the only two candidates that garnered more than 25% of valid votes cast in the December 7 presidential election.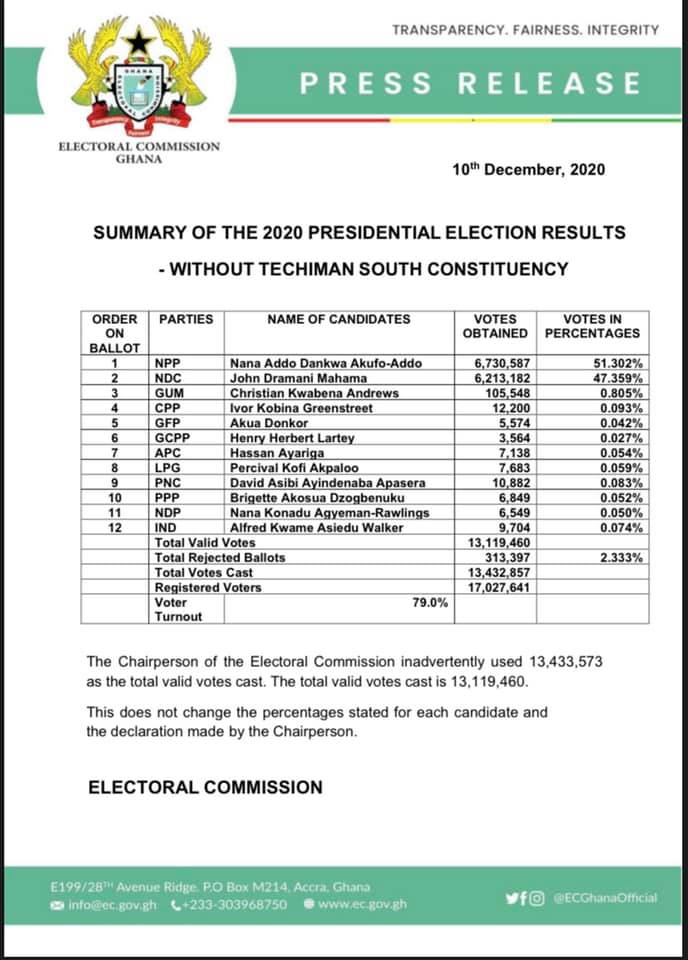 Find the parliamentary candidates who qualify for a refund here.
                                                                                                                                   By: Rabiu Alhassan