Claim: Ukraine is making people feign death to win global sympathy
Source: Twitter
Verdict: FALSE
Researched by Gifty Tracy Aminu
A widely shared video clip allegedly highlighting the military casualties in the ongoing Russia/Ukraine war is being portrayed as exposing how Ukraine is making people feign death to win global sympathy.
According to social media users, the video shows a reporter unknowingly exposing how people put into body bags to paint a dire situation in Ukraine are later seen moving in the bags. The video later shows another person running to attend to a person moving in one of the body bags.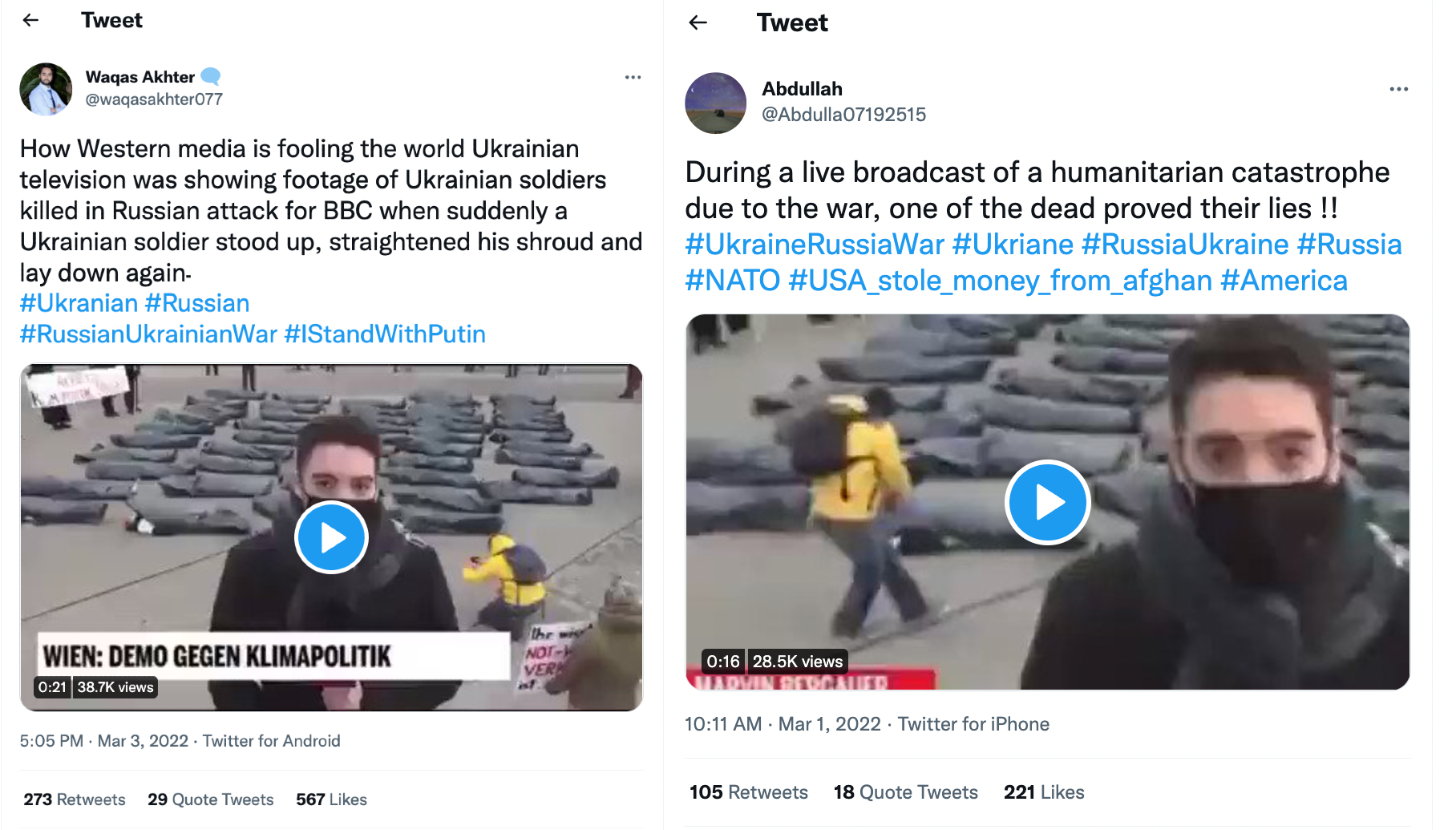 One Twitter user shared the video on March 1, 2022, with #UkraineRussiaWar and captioned it as "during a live broadcast of a humanitarian catastrophe due to the war, one of the dead proved their lies!." So far, the video has gathered more than 300 interactions including retweets and likes.
Meanwhile, online articles claiming Ukraine is reporting 'fake' dead bodies have been produced by some news websites (here and here).
Fact-check  
 Using the InVID verification tool and reverse image search GhanaFact found that the video first appeared on the internet on February 4, 2022.
The video clip was taken during a climate change policy protest in Vienna, Australia and has nothing to do with the ongoing Russia/Ukraine war.
The 2 minutes and 8 seconds long original video was posted on the verified YouTube channel of OE24.TV and is captioned: "Vienna: Demo against climate policy."
A screenshot of the original video posted on YouTube by OE24.TV
This same video has been used by COVID-19 conspiracy theorists to suggest that the world is faking COVID-19 deaths.
Credible fact-checking networks, including Reuters and APNews, have debunked the claims.
Verdict
The claim that Ukraine is making people feign death to win global sympathy is FALSE.