Claim:  COVID-19 is over and the Delta variant does not exist
Source: Twitter user
 Verdict: FALSE
Researched by Gifty Tracy Aminu
Many countries around the world are battling a third wave of the coronavirus pandemic amid concerns that the highly contagious Delta variant will soon be the most dominant strain globally.
COVID-19 misinformation and vaccine conspiracy theories have also continued to evolve both online and offline, as they seek to sow doubt in proven health measures, vaccine effectiveness and public health efforts to tackle the virus – identified as one of the biggest threats to ending the pandemic.
On social media, GhanaFact has been alerted to a FALSE claim that has garnered more than 2,000 interactions on Twitter including retweets and likes. According to a Twitter user, COVID-19 is over and there is no such thing as a Delta variant.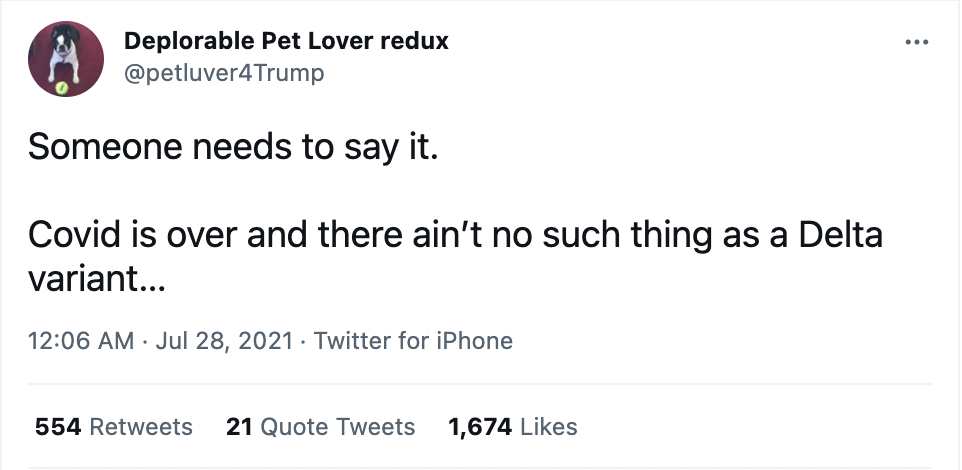 With more than 11,000 followers, the Twitter handle that expresses love for former US President Donald Trump, seems to be driving a conversation with like-minded social media users as evident in the comments under the Tweet.
But how true is the claim?
Fact-check
COVID-19 is continuing to spread around the world, with more than 200 million confirmed cases and more than 4.2 million deaths across nearly 200 countries.
#COVID19 is real.

It has now killed over 4 million people worldwide.

Curb the spread of the virus – wear a mask, wash hands & get vaccinated as soon as you can. pic.twitter.com/UIn6kJ0K59

— WHO African Region (@WHOAFRO) August 9, 2021
A July 27 US Centers for Disease Control and Prevention release stated that the Delta variant is currently the predominant strain of the virus in the United States. So, it cannot be true that COVID-19 is over or the Delta variant does not exist.
The Delta variant, also known as B.1.617.2, was first detected in India last year and according to the Director-General of the World Health Organization (WHO): "Cases and deaths resulting from COVID-19 continue to climb worldwide, mostly fuelled by the highly transmissible Delta variant."
"The Delta variant is a variant of concern that WHO is tracking and monitoring around the world. It's a variant of concern because we know it has increased transmissibility. This has been demonstrated by several countries," an expert at the World Health Organization Dr Maria Van Kerkhove has also noted.
Currently, Africa is experiencing the third wave of COVID-19 driven by the Delta variant amidst the difficulty of securing vaccines for its population.
According to the World Health Organization Regional Office for Africa – WHO/AFRO, "Nearly 70% of African countries will not reach the 10% vaccination target for all countries by the end of September at the current pace. Around 3.5 million to 4 million doses are administered weekly on the continent, but to meet the September target this must rise to 21 million doses at the very least each week."
Verdict
The claims that COVID-19 is over and the Delta variant does not exist are FALSE.