Claim: Ghanaian farmers have stopped shipping cocoa beans to Europe
Source: Twitter
Verdict: FALSE
Researched by Gifty Tracy Aminu
Is it true that Ghanaian farmers have officially stopped shipping cocoa beans to Europe?
Various social media users(here, here and here) are suggesting cocoa farmers from the West African nation will stop shipping cocoa beans to Europe because they are underpaid and overworked. "They only earn $ 2billion out of the $ 102 billion trade in chocolate," one tweet said.
On YouTube, a video captioned: "Wow! Ghana will no longer export cocoa to Switzerland," references the country's President Nana Akufo-Addo as the source of the claim.
? ?????????? ?? ? ?????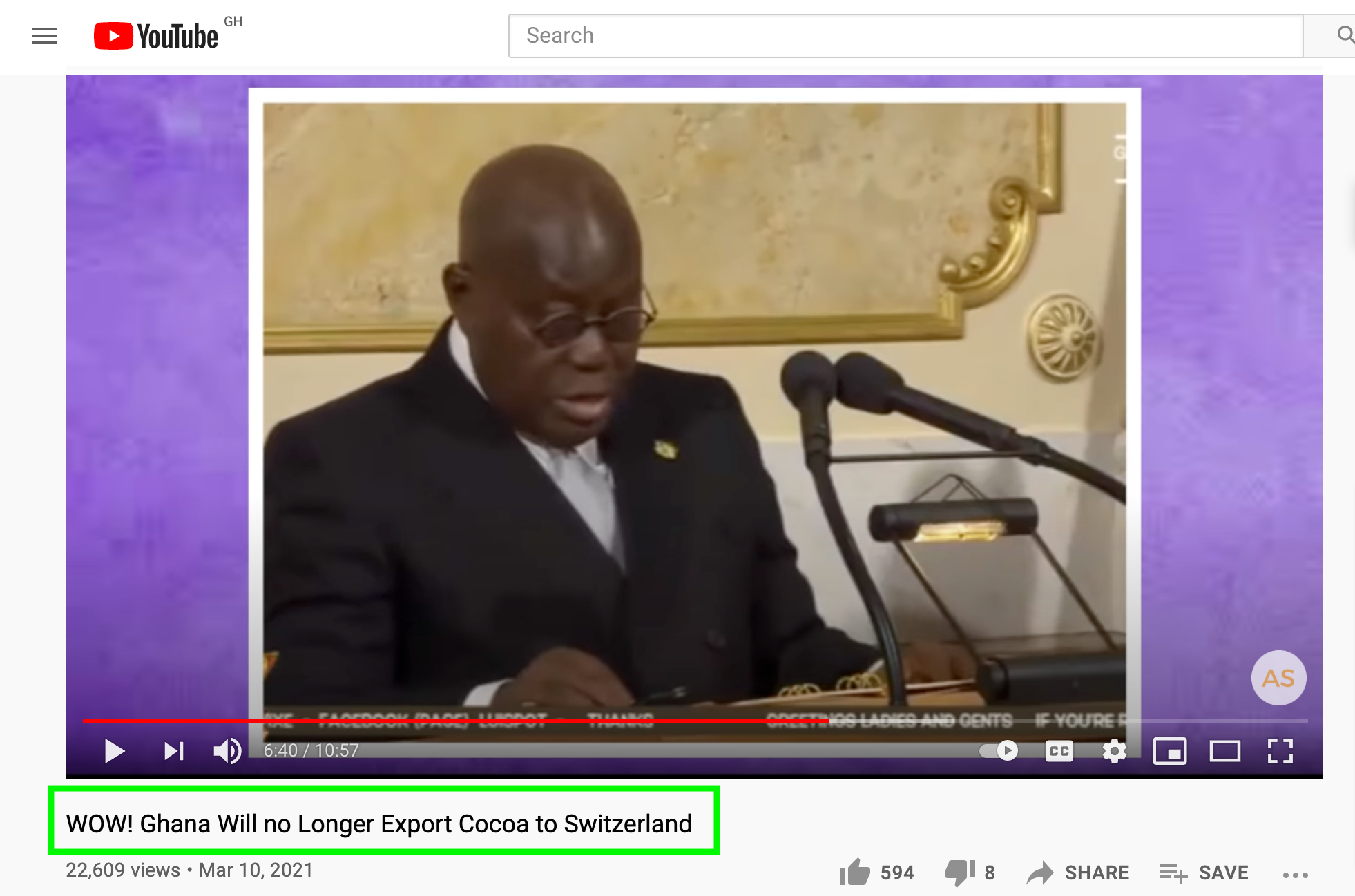 Fact-check
Ghana is the second-largest producer of cocoa beans in the world, with the industry highly regulated by the state through the industry regulator- Ghana Cocoa Board (COCOBOD).
All cocoa beans in Ghana are sold to Licensed Buying Companies (LBCs) which in turn sell to the only exporter in Ghana, the COCOBOD or to domestic industries for local processing.  The main export destinations over the years have been: European Union, Japan and the United States.
Thus, individual cocoa farmers in Ghana do not have the authority to stop shipping cocoa beans to Europe as claimed in the widely shared Tweet.
In 2020, Ghana secured a US$1.3 billion syndicated loan for cocoa purchases in the 2020/21 season and the country's cocoa industry regulator Cocoa Board (COCOBOD) signed the export-finance agreement.
Hence, it can not be true that Ghanaian cocoa farmers have stopped shipping cocoa beans to Europe.
Meanwhile, a Senior Public Affairs Manager at the Ghana Cocoa Board (COCOBOD), Fifii Boafo, has dismissed the claim as false and suggested some comments by Ghana's President were being misconstrued. "That is not the case. What the President has said is that going forward, Ghana seeks to process its cocoa beans locally to add value instead of shipping the raw beans," he told GhanaFact.
"Ghana no longer wants to be dependent on the production and export of raw materials including cocoa beans. We intend to process more and more of our cocoa in our country with the aim of producing more chocolates ourselves because we believe that there can be no future prosperity for the Ghanaian people in the short, medium or long term if we continue to maintain economic structures that are dependent on the production and export of raw material." Ghana's President Nana Akufo-Addo said at the Federal Assembly of the Swiss Confederation, in Bern, Switzerland on February 28, 2021.
However, according to COCOBOD, this did not mean Ghana was immediately stopping the exportation of cocoa beans. "It's the medium-term target but not a statement categorically that Cocoa will not be shipped henceforth."
As of June 3, 2021, Ghanaian farmers have harvested 965,493 metric tons of cocoa, compared with a target of 900,000 tons for the whole crop year that ends in September.
Verdict
The claim is FALSE.