Claim: Bank of Ghana issues 500 cedi notes
Source: Social media
Verdict: False
Researched by Gifty Tracy Aminu 
Has the Bank of Ghana(BoG) issued 500 cedi notes?
That is the claim being peddled on social media after an image of a 500 cedi note started circulating on Facebook and WhatsApp.
Using CrowdTangle, a leading content discovery and social monitoring platform, two Facebook pages with a combined followership of more than 250,000, NDC TV and Ghana on the Globe were found to have published the banknote on March 11 and March 12.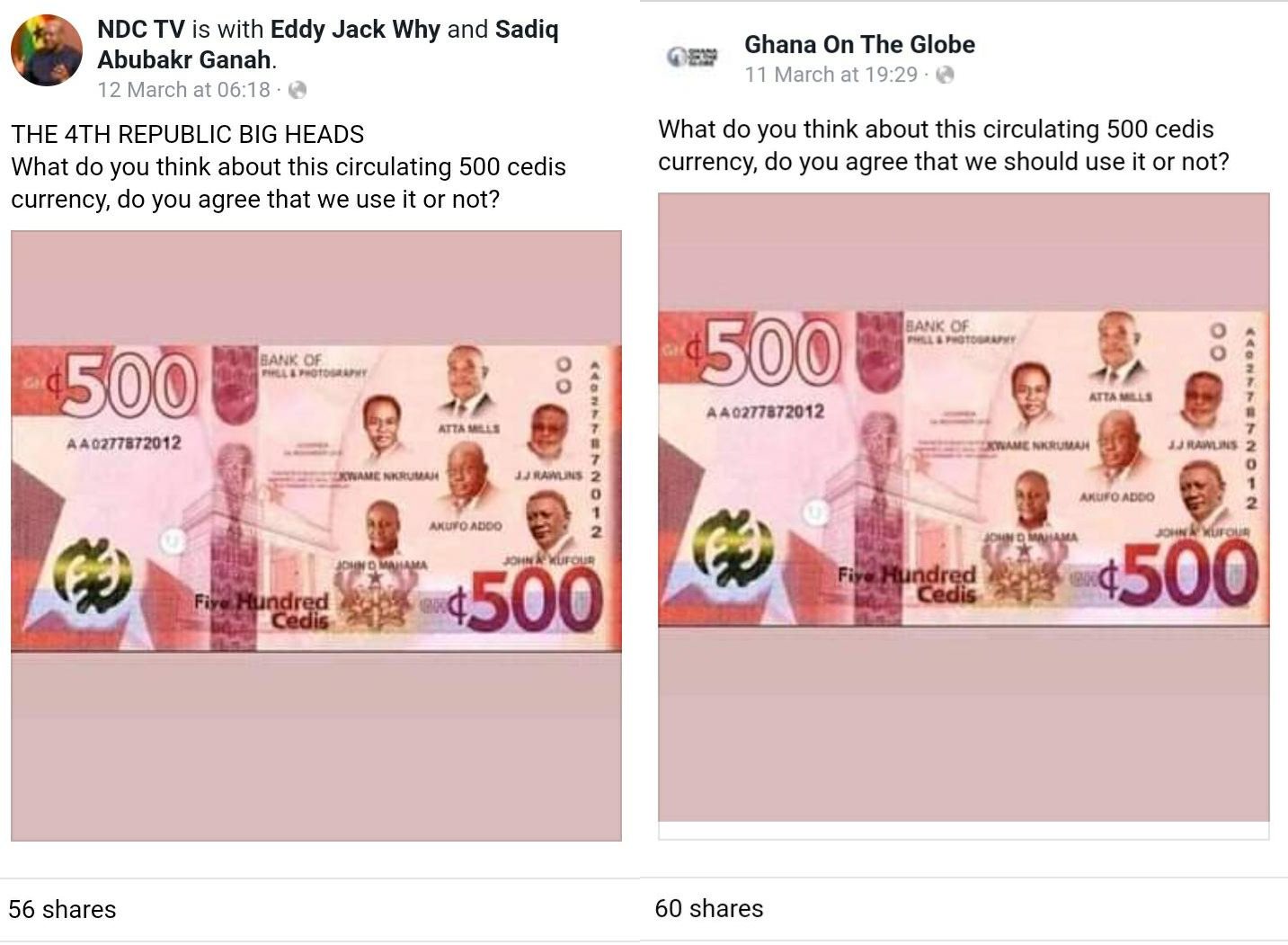 Fact-check
"Such fake information is circulated from time to time. Please disregard this information. The Bank would have issued a statement if indeed any such denomination was going to be released," Head of the Communications Office at the Bank of Ghana, Esi Hammond said in reaction to the claim.
A reverse image search shows the 500 Cedi note claim has been in circulation since November 2020, with a debunk by an online platform, myjoyonline.com coming up in the search results.
According to the Bank of Ghana(BoG): "All cedi notes have one portrait at the front, comprising six distinguished Ghanaians who spearheaded the struggle for Ghana's independence. Also on the front is the independence Arch, the symbol of the political independence of Ghana."
The "Big Six" that led Ghana to independence in 1957 are: Kwame Nkrumah (1909 – 1972), Emmanuel Odarkwei Obetsebi Lamptey (1902 – 1963) and William Ofori Atta (1910 – 1988).
The others include: Edward Akufo-Addo (1906 – 1979), Ebenezer Ako Adjei (1916 – 2002), Joseph Boakye Danquah (1895 – 1965).
However, the 500 cedi note in circulation shows the names and pictures of Ghana's first president Kwame Nkrumah plus all 5 presidents in the Fourth Republic including the current president Nana Akufo-Addo, John Mahama, John Atta Mills, John Kufour and Jerry John Rawlings.

Verdict
The claim that the Bank of Ghana has issued a 500 cedi note is FALSE. Here are some tips and techniques from the Bank of Ghana to help you make out counterfeits.