Claim: COVID-19 vaccines lead to changes in the menstrual cycle of recipients
Verdict: TRUE
Researched by Gifty Tracy Aminu
A news article widely circulating on WhatsApp claims COVID-19 vaccines are changing the menstrual cycle of recipients.
The article shared by Opera News and attributed to newstracklive.com is titled: "This dangerous problem is happening to women after getting vaccinated!" The article was however unavailable on the website of the platform that is alleged to have originally published the story following our checks.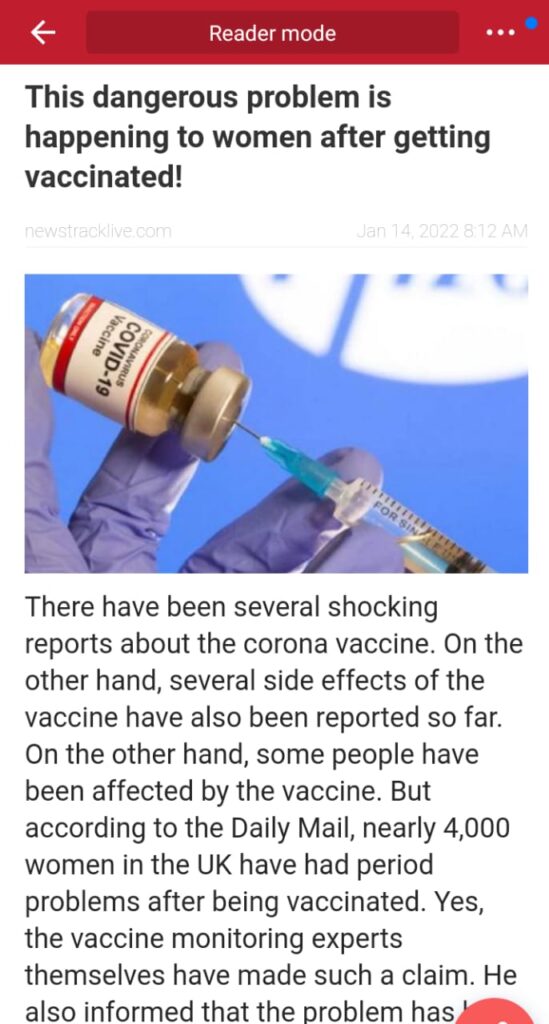 "Nearly 4,000 women in the UK have had period problems after being vaccinated. Yes, the vaccine monitoring experts themselves have made such a claim. He also informed that the problem has been more common mainly in women between the ages of 30 and 49 years after getting the vaccine," parts of the article said.
The fact-check report would seek to verify:
Whether the COVID-19 vaccines cause changes to the menstrual cycle of recipients.
Fact-check
"Scientists are currently gathering data to determine if there's a plausible link between the vaccines and changes in the menstrual cycle," the World Health Organisation – Africa Infodemic Response Alliance (AIRA) secretariat said in response to the claim when contacted by GhanaFact.
According to the World Health Organisation (WHO), any link between COVID-19 vaccines and changes in the menstrual cycle of recipients could be the result of an immune response to vaccination rather than a specific vaccine component.
Factors like stress, illness, and lifestyle changes can also temporarily affect the menstrual cycle of women.
"Any changes to your menstrual cycle after vaccination should be temporary and harmless. Vaccines are approved for use only after they have been found to be safe and effective," the World Health Organization(WHO) stressed.
Research by The BMJ
A research paper by the British Medical Journal (BMJ) about a plausible link between the COVID-19 vaccine and irregular menstrual cycle identified that "more than 30,000 reports of these events had been made to MHRA's [UK's Medicines and Healthcare Products Regulatory Agency] yellow card surveillance scheme for adverse drug reactions by 2 September 2021, across all COVID-19 vaccines currently offered."
The author of the article, Dr Victoria Male, a reproductive specialist at Imperial College London, further explained that most people who report a change to their period after vaccination find that it returns to normal the following cycle and, importantly, there is no evidence that COVID-19 vaccination adversely affects fertility.
"If there is a connection, it is likely to be a result of the immune response to vaccination rather than a specific vaccine component," Dr. Male stated.
According to GAVI Alliance, a co-leading global effort on equitable access to COVID-19 vaccines, the HPV (human papillomavirus) vaccine and the flu vaccine have been reported to affect menstrual cycles temporarily so it wouldn't be surprising if COVID-19 vaccines do so briefly either.
Gavi further explained three factors that could possibly lead to problems with women's menstrual cycle after taking their COVID-19 vaccines;
Immune cells are at work in creating and then breaking down the lining of the uterus that happens during menstruation.
Vaccines produce inflammatory molecules called cytokines and interferons that stimulate immune cells, including potentially in the uterus.
This might cause the lining to shed sooner or more intensively than usual, causing changes to the menstrual cycle.
Meanwhile, the World Health Organisation(WHO) has stated that COVID-19 vaccines are safe and effective.
Like all vaccines, COVID-19 vaccines go through a rigorous, multi-stage testing process, including large clinical trials that involve tens of thousands of people. These trials are specifically designed to identify any safety concerns.
Verdict
 The claim is rated TRUE. However, the headline of the article exaggerates the fact.