Establish a special prosecutor's office to fight corruption
Akufo-Addo sold himself as a strong anti-corruption fighter during his 2016 presidential campaign.
In support of this, the NPP's manifesto promises to establish and resource an "independent" Office of the Special Prosecutor, to "investigate and prosecute certain categories of cases" including those "implicating political officeholders and politicians."
In 2018, Akufo-Addo nominated popular anti-corruption campaigner Martin Amidu, a member of the NDC opposition party, as Special Prosecutor – a nomination which was approved by Ghana's lawmakers.
Amidu, however, resigned in November 2020 citing political interference after he released a corruption risk assessment into a proposed government deal to monetize the country's mineral resources. The government has denied these allegations.
Amidu subsequently described the president as the "mother serpent of corruption" and accused him of leading the "greatest corruption plot in the history of Ghana" in a 27-page letter addressed to Akufo-Addo and released online.
Another blow to Ghana's fight against corruption came when the president placed the Auditor General, Daniel Domelevo, on mandatory leave in July 2020. Domelevo was investigating the country's Senior Minister Yaw Osafo Maafo for a $1 million (€828,000) suspicious transaction.
In 2017, Ghana recorded its lowest score on Transparency International's Corruption Perceptions Index in five years, gaining only 40 out of a possible 100 points. It has since maintained a score of 41.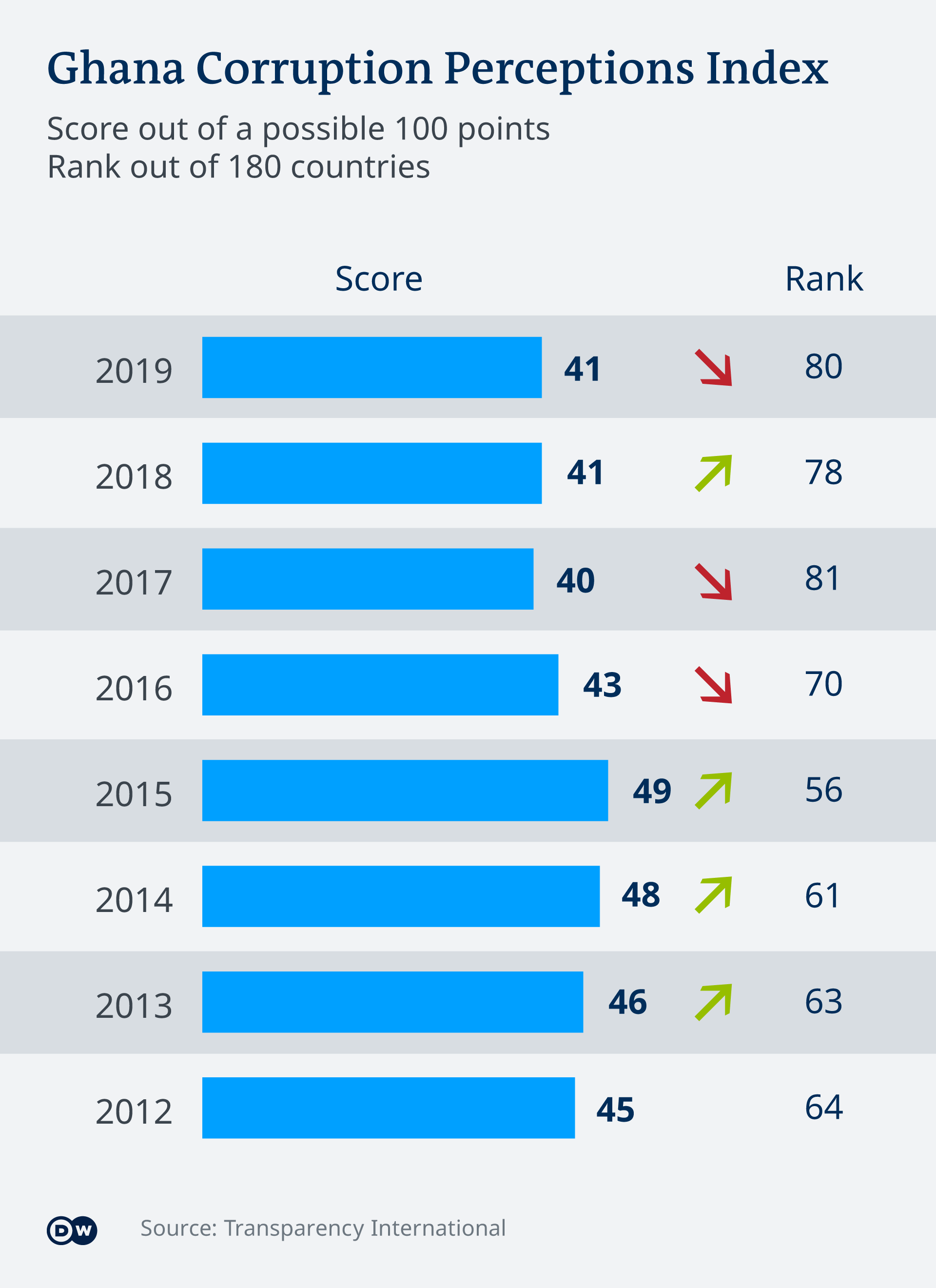 The team rates this as IN THE WORKS

By: Isaac Kaledzi, Rabiu Alhassan