About six consecutive days of torrential rain has devastated several communities across the fifteen districts in Ghana's upper east region, leaving a trail of deaths, destruction of buildings and farmlands in its wake.
The heavy downpour that started on October 6, is estimated to have displaced about 2,000 people, Ghana's National Disaster Management Organization (NADMO) has said.
 "Flooding is something that happens every year, but the destruction caused this year is serious and stakeholders need to come in," Journalist Joshua Asaah of A1 Radio, a radio station located in Bolgatanga, capital of the Upper East region said in an interview with GhanaFact.  
The Ghana Meteorological Agency (GMA) has confirmed 166.8 millimeters of rain was recorded in the region over the period. "We alerted partner agencies earlier that some selected areas around the country would experience above normal rainfall as part of our seasonal outlook," acting officer in charge of the Central Analysis and Forecast Office at GMA Felicity Ahafianyor said.
Here are some verified facts about the impact caused by days of heavy rains in the region.
Death Toll
The Ghana government's official number of casualties has been inconsistent, but Vice President Dr. Mahamudu Bawumia after leading a government delegation to visit the area on October 20, confirmed the number of deaths to be 19.
"Two died as a result of floods and 17 as a result of their houses collapsing on them," Regional Manager Red Cross Society Paul Wooma, confirmed after participating in an audit of the death toll.
However, Acting Upper East Regional Minister Salifu Saeed previously said 17 people were confirmed dead in the recent flooding and "urged the public to disregard the early publication that said over 27 people had died," a number reported by the National Disaster Management Organization (NADMO).
Number of people injured
According to NADMO, 19 people were injured during the period. "Only two victims are still at the Bolgatanga regional hospital, the rest have been discharged after receiving proper care," Regional NADMO director, Jerry Asomani said.
Buildings and farmlands destroyed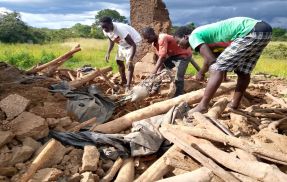 About 1500 homes have been destroyed by the recent floods. "Over 200 houses have completely collapsed. Also 1,278 houses have partially collapsed," Jerry Asomani added.
Ghana News Agency reported that a spillage from the Tono Irrigation Dam has left 844 hectares of farmland under water in Kassena-Nankana Municipal.
Districts affected
According to the Ghana Red Cross Society, all fifteen districts and municipalities in the region have been impacted by the floods.
They include Bolgatanga Municipal, Kassena-Nankana Municipal (Navrongo),Kassena Nankana West, Bawku Municipal, Builsa North, Builsa South, Binduri, Talensi, Garu-Tempane , Bongo, Bawku West, Nabdam, Pusiga, Bolgatanga east district and Tempane district
"However the worse hit are Builsa North, Bongo, Kassena-Nankana(Navrongo), Kassena Nankana West(Paga) and Bolga," Paul Wooma stated.
 Relief items and call for support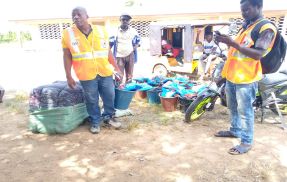 The National Disaster Management Organization (NADMO) has since delivered some relief items to victims affected by floods with further assurances from Vice President Dr. Mahamudu Bawumia that government was working on providing more support for the displaced.
"The government has donated 50,000 cedis to be shared amongst the families that have lost loved ones," Jerry Asomani revealed.
 "The desperation is clear and vivid, that people are not really happy about the situation they are going through, but they are helpless. It has to do with poverty," regional manager Red Cross Society Paul Wooma said.
The Ghana Red Cross Society has provided social support services by counselling victims out of the pain and erected tents for those who have been rendered homeless.
Meanwhile NADMO is calling on the public to donate relief items to augment government's efforts in the Upper East region.
By: Rabiu Alhassan