"Why are the covid-19 cases going way up when we have a vaccine as a cure?" a social media user enquired.
With more than 3.8 billion COVID-19 vaccine doses administered around the world as of July 29, many are asking what could be accounting for the third wave of coronavirus infections in some parts of the world and whether people can get infected with the virus after getting vaccinated?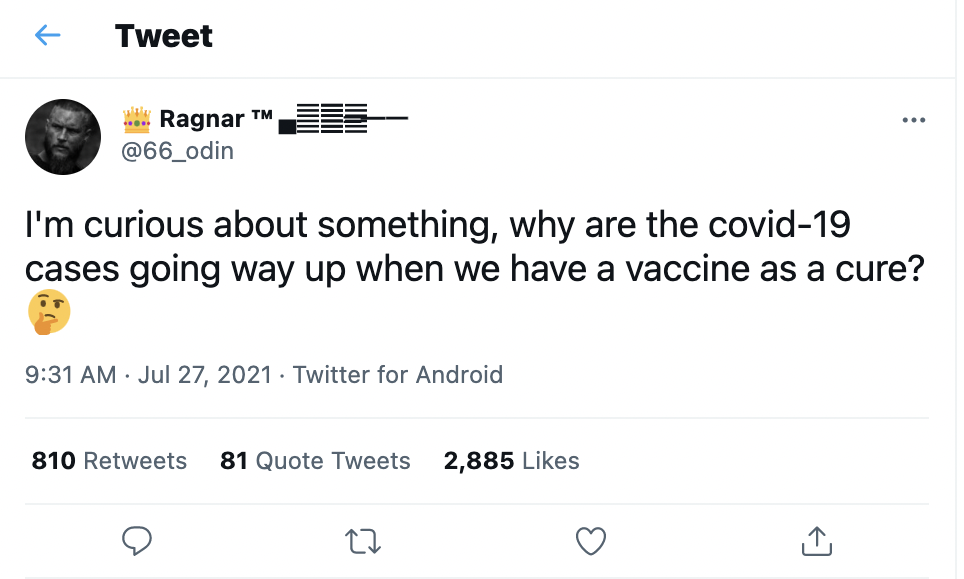 The United States of America, United Kingdom, Indonesia, India, and Brazil are among countries recording high daily infections, according to the World Health Organization (WHO).
"Despite efforts to extend vaccination coverage, many countries across all six WHO Regions continue to experience surges in COVID-19 cases. Over the past week, the highest numbers of new cases were reported from Indonesia (350 273 new cases; 44% increase), the United Kingdom (296 447 new cases; 41% increase), Brazil (287 610 new cases; 14% decrease), India (268 843 new cases; 8% decrease), and the United States of America (216 433 new cases; 68% increase)." The WHO weekly epidemiology report said.
Africa 
This is not different from what is happening in Africa. Many countries on the continent are also experiencing a third wave of the COVID-19 pandemic, which is being driven by the Delta variant with vaccinations lagging.
"Africa's third wave is at the crossroads. Following 8 consecutive weeks of a fast-moving surge. The rate of new cases slowed down falling by less than two per cent last week was driven by a sharp drop in South Africa which account for a third of the continent's reported new cases yet removing the data from South Africa reveals a uniquely steep and unbroken nine-week surge that's already 80% higher than Africa's previous peak," World Health Organization (WHO) Regional Director for Africa, Dr Matshidiso Moeti said.
When it comes to vaccination, Dr Moeti said "Africa continues to lag behind sadly. Just 20million Africans or 1.5% of the continent's population have been fully vaccinated so far. Just 1.7% of the 3.7 billion doses given globally have been administered in Africa."
However, some of the public concerns following from this seek to draw conclusions based on spurious correlation, with some questioning the efficacy of the COVID-19 vaccines.
Can you get infected after vaccination?
Yes. You can still get infected with COVID-19 after being vaccinated.
No vaccine is 100% effective and breakthrough infections are regrettable, but to be expected. A US Centers for Disease Control and Prevention (CDC) report shows that breakthrough infections for COVID-19 happened in only 0.1% of fully vaccinated people, and only 2% of those died.
"Vaccination protects you from getting seriously ill and dying from COVID-19. For the first fourteen days after getting a vaccination, you do not have significant levels of protection, then it increases gradually." The WHO said.
For a single-dose vaccine, immunity will generally occur two weeks after vaccination. For two-dose vaccines, both doses are needed to achieve the highest level of immunity possible.
"While a COVID-19 vaccine will protect you from serious illness and death, we are still learning about the extent to which it keeps you from being infected and passing the virus on to others (transmission). The data that is emerging from countries is showing that the vaccines that are currently in use are protecting against severe disease and hospitalization." The specialized agency of the United Nations responsible for international public health explained.
"The only ways you could test positive on a PCR test after being vaccinated would be if you were one of the rare cases where the vaccine didn't protect you from infection, or if you got a false-positive test result. The COVID-19 vaccines currently being rolled out are extremely effective, with most able to prevent at least 95% of infections, with only a small percentage of 'breakthrough' infections occurring. These are typical with other vaccines too." A global health partnership of public and private sector organizations, GAVI stated.
Meanwhile, the WHO has said there is currently no licensed medication to cure COVID-19.
By: Gifty Tracy Aminu