Claim: Airport baggage handler busted for allegedly stealing phones
Source: Viral social media video
Verdict: True
Researched by Sani Abdul-Rahman
A video being widely shared on social media shows a man being ordered to pull out several stashed mobile phones from his clothes.
The viral video is being portrayed as showing a ground handling staff at the Kotoka International Airport (KIA) who has been arrested for allegedly stealing mobile handsets from passengers luggage.
In the 1-minute 36-second video, an unidentified person is heard speaking in an indigenous Ghanaian language-Twi, asking the suspect to take off his clothes, and a third person is ordered to frisk the suspect.
The video has been shared on multiple platforms (here, here, here, here).
GACL confirms the incident
In a statement on December 17, the Ghana Airport Company Limited confirmed the incident occurred on Tuesday, December 15, and the suspect "has since been handed over to the Airport District Police for interrogation and appropriate action."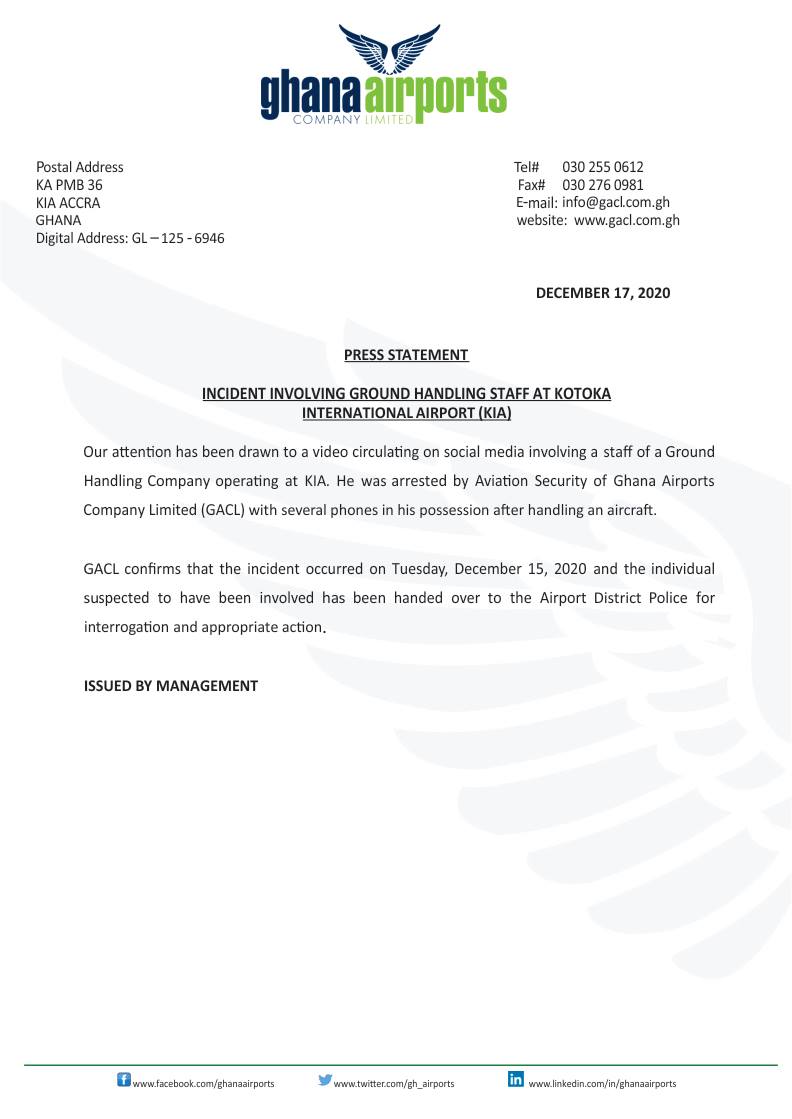 Airport District Police
The Airport District Police Commander, Chief Superintendent Eric Asiedu confirmed the arrest of the man from the viral video.
"25 smartphones were retrieved from the suspect. Aviance management has been helpful in the investigations, we believe the suspect acted possibly with support from some colleagues but it's too early to conclude," he told GhanaFact.
Verdict
The viral video showing the arrest of a KIA ground handling staff for allegedly stealing is true.